Kickin' back fishing
In less than a week we'll be heading to our cabin in beautiful northwestern Ontario. Time to relax, spend time with wonderful friends, catch some fish. We have no internet access up there; while it seems like it would be difficult to disconnect with the world we interact with every day online, once you hear the beautifully quiet background that is simply wind, waves, and wildlife, you wish for nothing more than to stay longer. :) Our vacation spot has been in my husband's family for well over six decades, each generation taking care of it.
Our morning view
It's about a 6 hour trip one way. Of course, we take our cloth diapers on the trip! Traveling for longer periods with cloth is pretty easy if you know you will be able to wash diapers during your vacation. Stuff your diaper bag with as many
diapers
, wipes, and
diaper salve
as you'll need for the duration of travel, and carry a wetbag in the vehicle. Put the rest of the diapers you'll need and an extra wetbag with your luggage. Don't forget the
detergent
and any additives you use! Then once you arrive, it's business as usual. Unless he had a particularly stinky diaper, I never noticed any smell having the wetbag inside the truck. I've changed diapers in the back of the vehicle many times when a restroom wasn't available.
A beautiful, mirror-still day
I like a simple, single layer pillowcase style fleece wetbag. I made mine for a wicker pail, but to save cargo room, we don't bring the big pail with to the cabin. Fleece is breathable and while 2 layers are more waterproof than 1 layer, as long as you're not putting in absolutely sopping wet soiled diapers, 1 layer of fleece is sufficient. Best of all, you wash the wetbag right with the diapers!
As you know, your wash routine depends on what type of water you have; the water up at the cabin is much softer than what we have at home. I have yet to get the right wash routine down for the cabin and usually have to strip the diapers upon arriving back home! This year, hoping to avoid that, I made Kaiden twenty new flats out of printed cotton twill. Flats are easier to get clean, and line dry much quicker. The advantage of the printed cotton twill I use is that it does not get "crunchy" when line dried like other fabrics do. We only have a clothesline there, no dryer - for rainy days, we string up a line through the interior of the cabin. Like planning to leave for vacation, planning the trip home is the same - you'll want to wash diapers the day before if you're leaving early in the morning.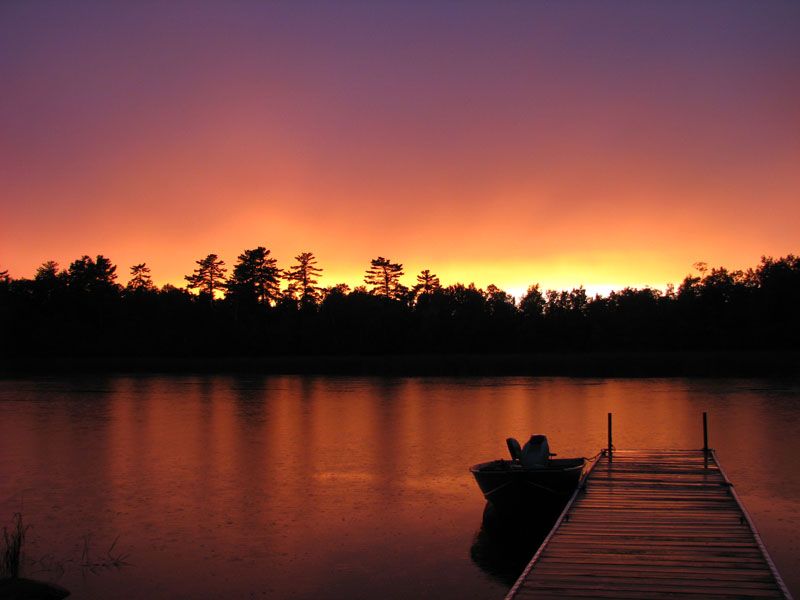 Good night, world
If you can't tell, LOL, I love to take pictures up there! I hope you enjoy seeing them as much as I enjoy taking them. :)